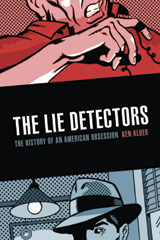 A "favorite book" of 2007
—The Chicago Tribune
The story of the lie detector takes us straight into the dark recesses of the American soul. It also leads us on a noir journey through some of the most storied episodes in American history. That is because the device we take for granted as an indicator of guilt or innocence actually tells us more about our beliefs than our deeds. The machine does not measure deception so much as feelings of guilt or shame. As Ken Alder reveals in his fascinating and disturbing account, the history of the lie detector exposes fundamental truths about our culture: why we long to know the secret thoughts of our co-citizens; why we believe in popular science; and why America embraced the culture of "truthiness."
For centuries, human beings had searched in vain for a way to unmask liars, seeking clues in blushing cheeks, shifty eyes, and curling toes…, all the body's outward signs. But not until the 1920s did a cop with a Ph.D. team up with an entrepreneurial high school student from Berkeley, California and claim to have invented a foolproof machine that peered directly into the human heart. In a few short years their polygraph had transformed police work, seized headlines, solved sensational murders, and enthralled the nation. In Chicago, the capital of American vice, the two men wielded their device to clean up corruption, reform the police, and probe the minds of infamous murderers. Before long the lie detector had become the nation's "mechanical conscience," searching for honesty on Main Street, in Hollywood, and even within Washington D.C. Husbands and wives tested each other's fidelity. Corporations tested their employees' honesty. Movie studios and advertisers tested their audiences' responses. Eventually, thousands of government employees were tested for their loyalty and "morals"—for lack of which, many lost their jobs.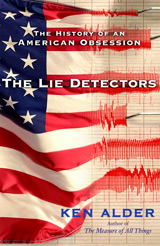 Yet the machine was flawed. It often was used to accuse the wrong person. It could easily be beaten by those who knew how. Repeatedly it has been wielded as an instrument of psychological torture, with the goal of extracting confessions. And its creators paid a commensurate price. One went mad trying to destroy the Frankenstein's monster he had created. The other became consumed by mistrust: jealous of his cheating wife, contemptuous of his former mentor, and driven to an early death. The only happy man among the machine's champions was the eccentric psychologist who went on to achieve glory as the creator of Wonder Woman.
Yet this deceptive device took America--and only America--by storm. Today, the CIA still administers polygraphs to its employees. Accused celebrities loudly trumpet its clean bill of truth. And the U.S. government, as part of its new "war on terror," is currently exploring forms of lie detection that reach directly into the brain. Apparently, America still dreams of a technology that will render human beings transparent.
The Lie Detectors is the entertaining and thought-provoking story of that American obsession.

Published in the U.S. by The Free Press. Paperback by Bison books.
Amazon.

NOTE: All images on this site are believed to be subject to fair use or are used by permission of copyright holder. If you believe this to be in error, please contact the website. You may not recopy the two images (#11 and #15) which are the property of the Bancroft Library; please contact them for the right to reproduce them. If you wish to repost any other image, please credit this site and link back to it.
All text: Copyright © 2007 by Ken Alder